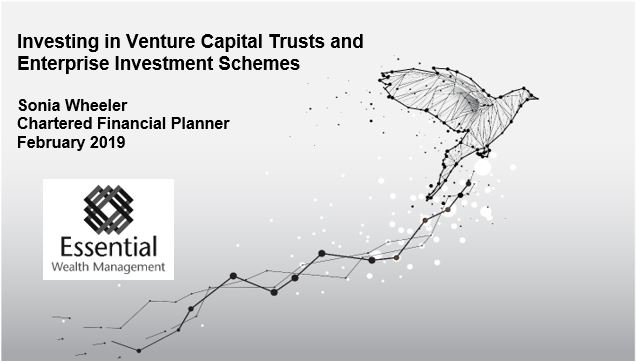 Venture Capital Trusts (VCTs) and Enterprise Investment Schemes (EISs) were introduced by the government in the mid 1990's to encourage investment into new business start-ups or those in the early stages of their development.
The thought behind them was to raise private capital for smaller companies in order to stimulate the overall economy, as the smallest 2% of companies generated about 30% of the growth. Essentially, they're tax efficient ways to invest in small and dynamic UK companies. They should not be confused with any tax avoidance or loophole schemes you may have heard about through the media.
Are they suitable for you?
Given the embryonic nature of the underlying companies that are being invested in, VCT's and EIS's are typically higher risk than other types of investment and therefore are only suitable for more experienced investors who can also accept the greater risk of incurring losses.
| | | |
| --- | --- | --- |
| | VCT | EIS |
| Annual investment limit | £200,000 | £2,000,000 (1) |
| Level of income tax relief | 30% | 30% |
| Minimum holding period for key reliefs | 5 years | 3 years |
| Tax free dividends | Yes | No |
| Tax free capital gains | Yes | Yes – if held for three years |
| Potential to defer capital gains realised elsewhere | No | Yes |
| Inheritance tax relief (Business Property Relief) | No | Yes – if held for two years prior to death |
| Ability to offset loss at exit against income | No | Yes – on loss net of income tax relief |
(1) An investment into an EIS above £1,000,000 must be in knowledge intensive companies.
Things to consider include
Start-up companies have higher failure rates than more established companies
It is possible for an investor to lose all of their investment, however, the impact of the loss may be mitigated in part (but not all) by tax reliefs where applicable
Both EIS and VCT schemes are more restricted in how you can access any money invested in them when compared with regular quoted equities
The levels and bases of the reliefs from taxation may change in the future and could result in retrospective adjustments to reliefs claimed. The effects of tax laws depend on individual circumstances
Changes in legislation may adversely affect the value of investments
Past performance is not a guide to future performance.
We can help you achieve a tax-efficient financial plan by providing advice that is based on a thorough understanding of your personal circumstances and goals.
This information is based on our current understanding of the rules for the 2018-19 tax year. HM Revenue and Customs practice and the law relating to taxation are complex and subject to individual circumstances and changes which cannot be foreseen. The value of investments and any income from them can go down as well as up and you may not get back the original amount invested.